MS-3006 zes zones waterdichte digitale doorloop metaaldetector (zilver en grijs )
Product Introductie:
Walkthrough metaaldetectoren met betrekking tot terrorisme, waar er terrorisme is dan zal die markt een groot potentieel hebben. het is als een arts en verpleegster in witte doeken, ze kunnen voorkomen dat terrorisme plaatsvindt. En red het leven en eigendom van mensen.
metaaldetector pro
garrett pro pointer
detector de oro

■ Technische parameters
Externe voeding: Standaard AC220V / 47H z ~ 63Hz ( 90V ~ 250V kan worden aangepast )
Stroomverbruik : ≤ 30 W Werkomgeving : - 25 ℃ - + 50 ℃ Geen condensatie
GW : 80kg NW : 70kg
Productafmetingen : (mm) 2220 (hoogte) x 820 (breedte) x 650 (diepte)
Tunnelafmetingen : (mm) 2000 (hoogte) x 700 (breedte) x 500 (diepte)
■ Prestaties en kenmerken
● Waterdicht ontwerp: gebruik PVC-kunststoffen en precisie-afwerking, waterdicht, brandveilig, schokbestendigheid. De waterdichte voetmof is geconfigureerd, die niet alleen de deurbody kan bevestigen, maar ook de rol van waterdicht kan spelen. ● Displaypaneel: super heldere LED-display gebruiken.
● Alarmzone-indicatie: Super heldere LED-zone-indicator, zo hoog als het menselijk lichaam, kan het alarmgebied direct aangeven, nauwkeurig de locatie van het aangevinkte item aangeven, en kan via zowel geluid als licht synchroon alarmeren, in één oogopslag, de efficiëntie aanzienlijk verbeteren van werk.
● Instelbare zonegevoeligheid: de hoogste gevoeligheid kan metaal zo klein als een boekclip detecteren. Niet alleen heeft elke detectiezone een gevoeligheid van 100, maar ook de algemene gevoeligheid kan binnen 100 graden worden aangepast, waarbij 100 * 100 gevoeligheidsopties worden gerealiseerd.
● Unieke, wijdverspreide aanpassingstechnologie: kan niet alleen het detecteren van een boekclip realiseren, maar kan ook ervoor zorgen dat het een supergrote snijder en verboden artikel detecteert door de gevoeligheid van de beveiligingspoort in het paneelinstellingsmenu aan te passen.
● Unieke linker en rechter balanstechniek: elimineer het niet-uniforme probleem bij het binnengaan en verlaten van de poort, veroorzaakt door de niet-uniforme detectie van het linker en rechter deurpaneel.
● Elk onafhankelijk gebied kan de gevoeligheid aanpassen, het ingestelde gewicht van het metaal, het volume, de grootte en de positie instellen en valse alarmen verwijderen van bijvoorbeeld munten, sleutels, juwelen, riemgesp enz.
● Sterke anti-interferentiecapaciteit: speciaal digitaal, analoog hybride circuitontwerp, anti-ontbrekend alarm, sterk anti-interferentievermogen, vals alarmpercentage gecontroleerd in minder dan 1%.
● Wachtwoordbeveiliging: wachtwoordbeveiliging, zodat alleen geautoriseerd personeel kan werken.
● Tellerstatistiekfunctie: intelligente acht-bits flow en alarmteller voor statistiek-passanten en alarmtijden.
● Onschadelijk voor het menselijk lichaam: onschadelijk voor de Heart Pacemaker van de mens, zwangere vrouwen, magnetische floppydisk, tape, videoband, enz.
● Eenvoudige installatie: de EASYNEW-serie is een geïntegreerd ontwerp, slechts 10 minuten om te installeren of verwijderen, willekeurig uitgerust met installatie- en bedieningsinstructies.
● Meer optionele functies of aangepaste functie, vraag ons vrijblijvend.
Toepassing:
Luchthaven, diverse conferentiezaal, grootschalige campagne, busstation, zeehaven, uitgaansgelegenheid, gevangenis, rechtbank, belangrijke overheidsafdeling, fabriek, onderzoekshal, winkelmarkt, toegangscontroles voor gemeenschapscontrole en inspectie van verboden voorwerpen.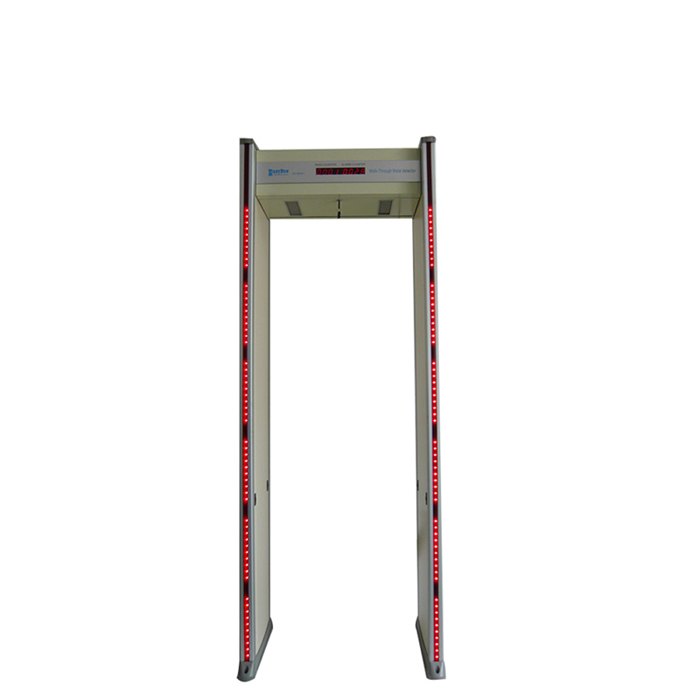 metaaldetector pro
garrett pro pointer
detector de oro
Product Categorie : Loop door Metaaldetector > Deurraam Metaaldetector