MS-3006 zes zones water-proof digitale walk-through metaaldetector (Silver & grijs)
Product Introductie:
Geleidelijk worden de doorgangsmetaaldeurpoortjes kleiner en lichter op het verzoek van de markt. Peopl ontwerpt verschillende vormen en zelfs opvouwbaar.
18zones lopen door metaaldetectoren
temperatuur loopt door metaaldetector
lcd lopen door metaaldetector
■ Technische Parameters
Externe voeding: Standard AC220V / 47H z ~ 63Hz (90V ~ 250V kan worden aangepast)
Stroomverbruik: ≤ 30W Werkomgeving: - 25 ℃ - + 50 ℃ geen condensatie
GW: 80kg NW: 70kg
Grootte van het product: (mm) 2220 (hoogte) x 820 (breedte) x 650 (diepte)
Tunnel Afmeting: (mm) 2000 (hoogte) x 700 (breedte) x 500 (diepte)
■ Prestaties en kenmerken
● Waterdicht ontwerp: gebruik PVC synthetische materialen en precisie vakmanschap, waterdicht, vuurvast, schudbestendig. De waterdichte voetmouw is geconfigureerd, die niet alleen het deurlichaam kan fixeren, maar ook de rol van waterdicht spelen. ● Display Panel: Met behulp van super helder LED display.
● Alarmzone-indicatie: De superlichte LED-zoneindicator, zo hoog als het menselijk lichaam, kan het alarmgebied direct aangeven, de locatie van het gecontroleerde item nauwkeurig aanwijzen en kan zowel synchroniseren als geluid en licht, in een oogopslag de efficiëntie aanzienlijk verbeteren van werk.
● Verstelbare zone gevoeligheid: de hoogste gevoeligheid kan metaal zo klein vinden als een boekclip. Niet alleen elke detectiezone heeft 100 gevoeligheidsclassificatie, maar ook de algemene gevoeligheid kan binnen 100 graden worden aangepast, waardoor 100 * 100 gevoeligheidsmogelijkheden worden gerealiseerd.
● Unieke wijdaanpassende technologie: niet alleen kan het detecteren van een boekclip realiseren, maar kan ook het super grote snijder en verboden item detecteren via de gevoeligheid van de beveiligingspoort in het paneelinstellingsmenu.
● Unieke linker- en rechterbalancetechniek: elimineer het niet-uniforme probleem volledig wanneer u binnenkomt en uit de poort gaat, die veroorzaakt wordt door de linker en rechter deurpaneel niet-uniform detectie.
● Elk onafhankelijk gebied kan de gevoeligheid, het voorgeprogrammeerde metaalgewicht, het volume, de grootte, de positie aanpassen en de valse alarmen verwijderen zoals munten, sleutels, sieraden, riemgespen enz.
● Sterke anti-interferentiecapaciteit: speciale digitale analoge hybride schakeling, anti-ontbrekende alarm, sterk anti-interferentie vermogen, valse alarmsnelheid wordt in minder dan 1% geregeld.
● Wachtwoordbeveiliging: wachtwoordbeveiliging, waardoor alleen geautoriseerd personeel kan werken.
● Telestatistiekenfunctie: intelligente acht bits stroom- en alarmteller naar statistische passagiershoeveelheid en alarmtijden.
● Schadelijk voor het menselijk lichaam: schadelijk voor de menselijke hartpacemaker, zwangere vrouwen, magnetische diskette, tape, videoband, enz.
● Eenvoudige installatie: EASYNEW serie is een geïntegreerd ontwerp, slechts 10 minuten om te installeren of te verwijderen, willekeurig uitgerust met installatie- en bedieningsinstructies.
● Meer optionele functies of aangepaste functie kunt u ons vrijblijvend informeren.
Toepassing:
Luchthaven, diverse vergaderzaal, grootschalige campagne, busstation, zeehaven, amusementsplaats, gevangenis, rechtbank, belangrijke overheidsdienst, fabriek, examenhal, winkelmarkt, toegangscontrole voor de toegang tot de gemeenschap en inspectie van verboden artikelen.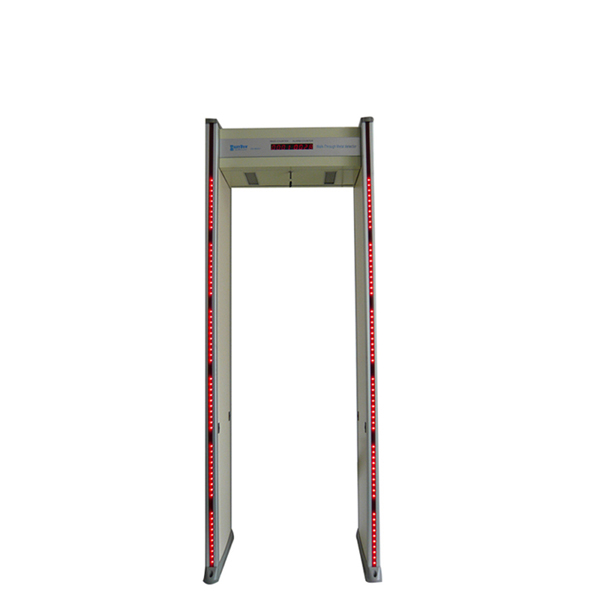 Product Categorie : Loop door Metaaldetector > Checkpiont Metaaldetector